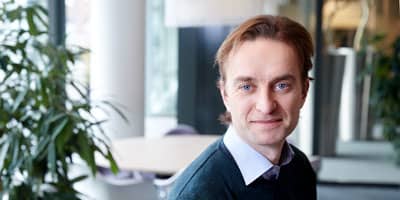 Wilte Zijlstra is a supervision officer at the Consumer Behavior team in the Centre of Expertise of the Dutch Authority for the Financial Markets (AFM). He has worked at the AFM for over 10 years on various (supervisory) projects, ranging from work on investment products, mortgages, and consumer credit, to insurance and pensions. Prominent is all of his work has been the drive to give voice to the (financial) consumer via (market) research to further improve the supervision and regulatory practices of the AFM. Wilte was a speaker at our event in November 2017.
Tell me about your work: how does behavioral science fit in it?
I work at the Dutch Authority for the Financial Markets (AFM) in the Consumer Behavior team. The AFM is the independent market conduct authority in the Netherlands and is committed to promoting fair and transparent financial markets. The AFM wants to contribute to a sustainable financial system and prosperity in the Netherlands.
We use behavioral insights and experiments to contribute to this mission. At a previous Amsterdam Behavioural Sciences Network, I gave a talk "Behavioral sciences at the Dutch financial regulator AFM", which you can watch on Youtube (Slidedeck).
How did you first become interested in behavioural science?
My background is a little less conventional I suppose; I studied Biology at Leiden University and during my studies I did behavioural science (or ethology as a biologist would call it) on for example mating behavior of quails or grooming behavior of rats. After my Ph.D. in evolutionary biology, I decided to leave academia because I wanted to broaden my scope. I worked at a health insurer and also taught high school biology. In 2006 I started at the AFM, doing consumer research.
Traditionally, mainly economists and legal people work at a financial regulator. But I think diversity does help and I am grateful the AFM was broad-minded enough to also hire biologists. Although I primarily consider myself a researcher. Jokingly, I always say, once they are in the computer, it doesn't matter if they are butterflies or customers (the alliteration works better in Dutch: "vlinders of verzekerden").
And because I had no "traditional" economic training, the rise of behavioral economics and doing experiments was no shock to me.How do you apply behavioural science insights in your personal life?
I have a pretty high need for cognition and need for completion. So I would keep watching a movie or reading a book just to have it finished, although I was not enjoying it anymore. I am now abandoning more books and movies, sort of rationally overriding my natural urges.
What accomplishment are you proudest of, as an applied behavioural scientist?
As a consumer behavior team, we have done many interesting studies and field experiments ( you can read many here in English). That shows that evidence-based policy is feasible and useful, and that cooperation with market parties is possible. Also, it helps my supervision colleagues to include (a realistic perspective on) the demand-side in their practice.
Besides doing the research itself, I think I play an important role in the marketing and spreading of the results. I present and publish quite a bit, and am quite active on Twitter (@wilte). Cooperating with academics, practitioners and other regulators really advances the field. For example, we recently wrote a joint paper with the Australian regulator on use and limitations of disclosure. I am proud of that collaboration and hope it will lead to the effective application of different interventions.
What type of research do you find most interesting, useful or exciting?
I am currently working on a project where we have coupled survey data to administrative data. So you both have the subjective answers (choices during the pension accumulation phase in this case) and objective numbers, like the expected replacement ratio at retirement (pension income as a fraction of working income). Combining such different sources is very exciting and insightful.
Furthermore, we also do some work on what information will lead consumers to make the best decisions. So we give respondents a task to pick products where there objectively is a best choice (e.g. lowest cost, lowest risk etc). Different groups, randomly allocated, get to see the information in different formats and so you can measure what works best (as an example: A randomized controlled trial on the effectiveness of mandatory investment information).
What advice would you give to people who might be interested in a career in your field?
Genuine curiosity will probably get you pretty far. A solid grasp of methods and statistics is very useful, as is a practical mind. Very often the ideal experiment is not possible or very costly, so you have to be pragmatic. Knowing how to trade-off these constraints is an important skill.
In what areas do you think behavioural science has had the biggest impact so far? And do you see any challenges to the wider adoption of behavioural science in your field?
One big challenge is the actual behavior that you want to target. Often this is difficult to change and also hard or expensive to measure. And proxies for the target behavior might not tell the real story (intention does not equal behavior). So many examples involve sending a bunch of differently worded letters, or measure differential click throughs. Such micro-converstions are important and can lead to cool results, but is the real deal? Does it solve the actual problem?
And also, science is messy; many experiments will fail, in the sense that they won't yield the results you hoped for. Explaining that to policy-makers or funding agencies might be a challenge.
How do you think the field/profession will develop in the next 5-10 years?
I am generally optimistic and I am hopeful the application of behavioral science will keep growing. The rise of fact-free discussions does worry me a bit and I hope solid science can counter that. Perhaps I'm overoptimistic, because ever since Darwin there have been debates raving on evolution between science and not-science. To me it is obvious what the correct answer is and should be of course. Hopefully, behavioral science can develop on a factual path.
You can find more about Wilte at: https://voxeu.org/users/wiltezijlstra and an article on evil nudges online here: https://www.afm.nl/nl-nl/nieuws/2018/okt/blog-wilte-evil-nudging